Vietnamese fine Art : Bao loc Silk
Bao Loc Silk is a high quality natural fiber of silk origin, produced by modern technology of Japan and Korea, mostly small curtain so when weaving silk is soft. The glossy foam helps the user to feel smooth, smooth, airy and non-charged.
Bao Loc silk products have long been popular with domestic and foreign customers because Bao Loc silk products are rich in variety and quality and are harmonious combination of Traditional and modern.
Bao Loc silk products have more than 20 different types, with basic and popular items such as silk, satin, crepedechine (CDC), jacquard, habutai, ovalza , Georgetee (GGT-Voal) fabric, taffetas ... and viscose fabric, cotton blend with superior quality compared to the same products of some countries in the region.
Bao Loc silk products have been exported to many countries such as Japan, America, France, Singapore, Pakistan ... Besides, the domestic market is also very strong, Especially in big cities like HCMC. Ho Chi Minh, Hanoi, Hue, Da Nang.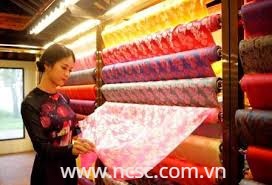 Introduced by
NCSC Vietnam